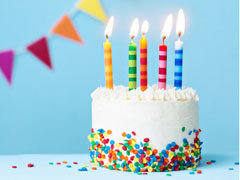 Birthday Cakes


Please call to reserve this item

Don't Forget the Birthday Cake!
One of the great traditions of our time is having a birthday cake on your birthday. What birthday would be complete without a birthday cake? Being presented with a cake is a timeless way to mark the occasion. Having your loved ones sing to you before you make a wish and blow out the candles is a ritual that should never be skipped. A birthday is a celebration of life and should always be treated as such.
Party Kids America now offers beautiful birthday cakes delivered on-time right to your party.