Mickey Mouse Bounce house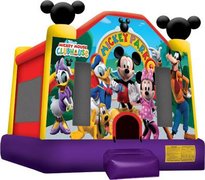 14ft Chase Paw Patrol Bounce House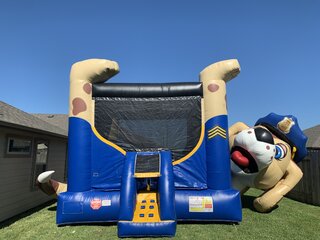 Sports Obstacles Course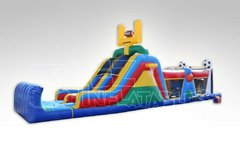 Finding Dory Bounce House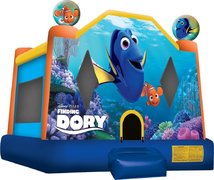 Disney Princess Bounce House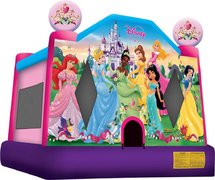 Multi Color Bounce House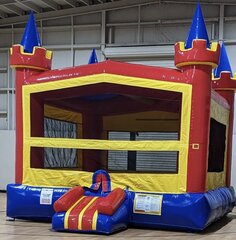 Bounce House Rental Pearland
Choose the #1 bounce house rental Pearland can provide from Party Kids America and get ready to kick the fun and adrenaline up a notch! In the bustling realm of event planning, our team stands out as Pearland's premier partner for throwing unforgettable celebrations. Our longstanding reputation is built on unwavering trust, punctuated by a history of successful events and glowing testimonials from our cherished clientele. While many offer party essentials, we go a step further by crafting unique experiences. Our curated collection, always updated with the freshest trends, showcases our commitment to innovation and quality, allowing our customers to choose from the best of the best!
We're proud to serve Pearland, Texas, and surrounding areas of Brazoria County with unparalleled selections and service. Whether you're putting together a special birthday party for your child, celebrating a Kindergarten graduation, planning a school field day, or making sure your upcoming bridal shower has plenty of entertainment for the little ones, we have you covered with the top-rated bounce house rental Pearland can provide.
What truly elevates the Party Kids America experience and sets our locally-owned business apart is the ease with which our services can be accessed. Our user-friendly online booking system is designed for today's fast-paced world, ensuring that your dream event is just a few clicks away. We're the heart and soul behind countless memorable moments, and we can't wait to be a part of yours when you book the bounce house rental Pearland parents, schools, businesses, and party planners choose first.
Browse our selections and find the best bounce house rental Pearland TX has to offer from our dazzling collection. Dive in, and let's make memories together! If you have any questions along the way, don't hesitate to reach out to our team by giving us a call at (832) 338-5611. Our friendly and knowledgeable staff will be delighted to help you bounce beyond ordinary celebrations and plan something extraordinary today!
Fun Year-Round: Bounce House Pearland for Every Event and Occasion
Book the bounce house Pearland counts on to add endless excitement and entertainment to events of all kinds from Party Kids America! While bounce houses are often synonymous with children's birthday parties, their appeal and utility span a wide range of events, including graduation celebrations, reunions, team-building weekends, baby showers, wedding-related events, and any other special occasion that calls for entertainment. Dive into the myriad occasions where Party Kids America's bounce house Pearland collection becomes the star attraction: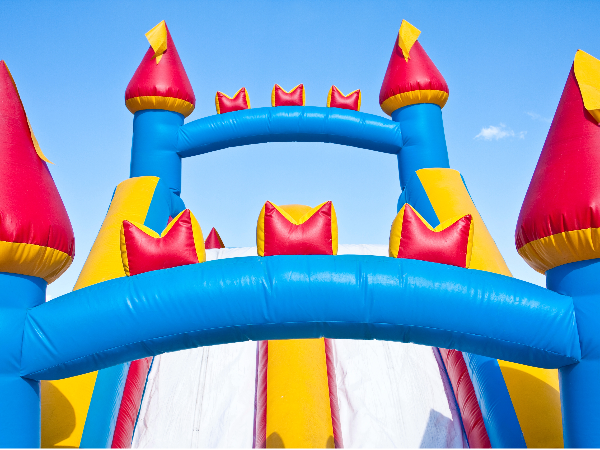 Community Fairs and Carnivals: Our bounce houses have proudly stood as a beacon of fun at numerous community events. Their vibrant designs and infectious energy draw crowds, making them a staple at local fairs and carnivals.


School Events and Fundraisers: Whether it's an end-of-year celebration, a sports day, or a school fundraiser, our bounce houses add a delightful recreational element, keeping students engaged and entertained.


Corporate Family Days: Companies looking to add a kid-friendly touch to their corporate events often opt for our bounce houses. It's a fantastic way to ensure the little ones have as much fun as the adults!


Church and Religious Gatherings: Festive occasions, picnics, or community outreach events organized by religious institutions often feature our bounce houses, providing a joyful space for children to play and bond all year long.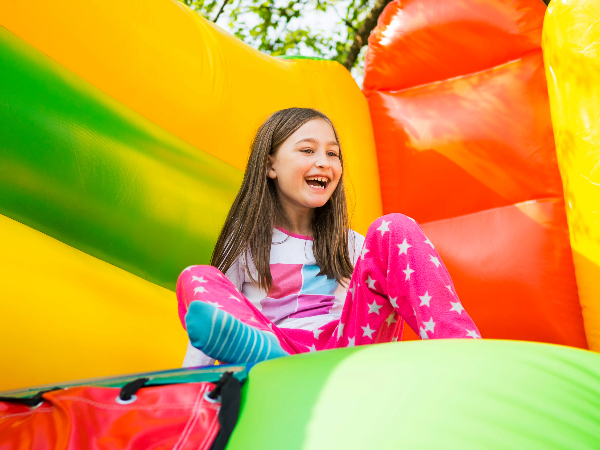 Weddings and Receptions: Modern weddings are embracing child-friendly amenities more and more to ensure little guests stay occupied in a safe and convenient fashion, allowing the adults to enjoy the festivities even more. Our blow up bounce house rental Pearland TX ensures the youngest attendees are entertained, allowing parents to be present and dance the night away.
Neighborhood Block Parties: What better way to foster community bonding than a bounce house? It's not just for the kids—adults often find themselves reminiscing about their childhood as they watch the young ones bounce with glee. Whether you need a small bounce house rental Pearland TX uses to entertain the little ones or a mega bouncer to accommodate a super guest list, we've got you covered.
Festivals and Public Celebrations: Be it a cultural festival, a public holiday celebration, or a large-scale public event, we have the inflatable bounce house rental Pearland TX event planners and community organizers use to add a dash of excitement to their events, drawing families in and ensuring a wholesome entertainment option.
Remember, the joy a bounce house brings isn't limited to any particular occasion. With Party Kids America's bounce house Pearland TX collection, every event can have that extra sprinkle of fun, laughter, and bouncing memories!
Amazing Options for a Bounce House Rental in Pearland
We have no shortage of options for a bounce house rental in Pearland that will be the focal point of any event! Our inventory boasts a wide range of designs, from colorful, popular characters we all know and love for children's parties to exciting obstacle courses and combination slides to promote activity and entertainment at community events. Each rental bounce house in Pearland TX is maintained with the utmost care, reflecting our commitment to quality and safety. With Party Kids America, you'll find the perfect choice for your upcoming event. Browse a few of our favorites below and book online!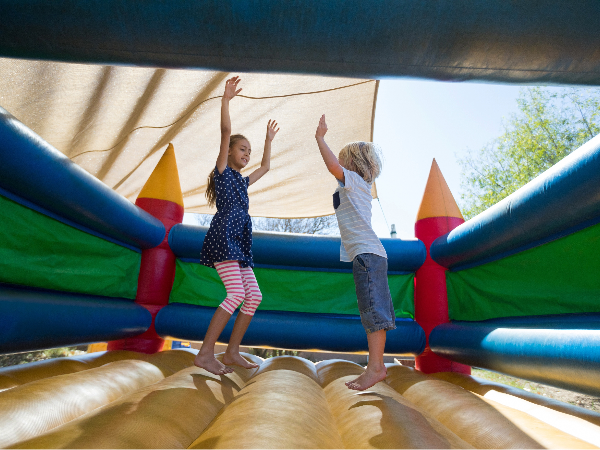 Chase Paw Patrol Bounce House: Great for birthday parties, community festivals, and school field days, this bounce house in Pearland is a popular option for the younger kiddos. Measuring 30' long by 17' wide by 17' high, this exciting bouncer makes a statement without breaking the bank. Beginning at $224 for up to six hours of rental time, this jumper will keep attendees entertained and amazed!


Princess Bounce House: If you're looking for a birthday bounce house rental Pearland TX princesses will adore, our princess bounce house is a must-have! Beginning at $224 for up to six hours of rental time, this jumper will keep the queens-to-be entertained and having a blast, whether at a backyard birthday party, tea party, baby shower, or church event.


Sports Obstacles Bounce House: This is the big bounce house Pearland TX event organizers, businesses, schools, and community organizations use to entertain large groups of people for hours on end. Complete with horizontal and vertical pop-ups to navigate around, a bouncing area, and a mega slide, this bouncer is great for sports enthusiasts and adventurers alike! Beginning at $425 for up to six hours of rental time, this option is popular for local festivals, carnivals, fairs, field days, and church events.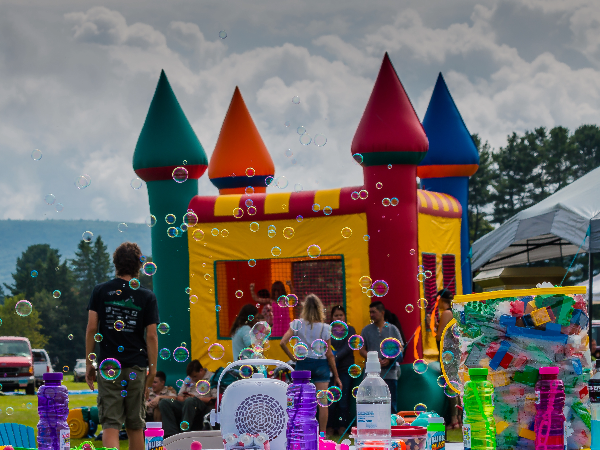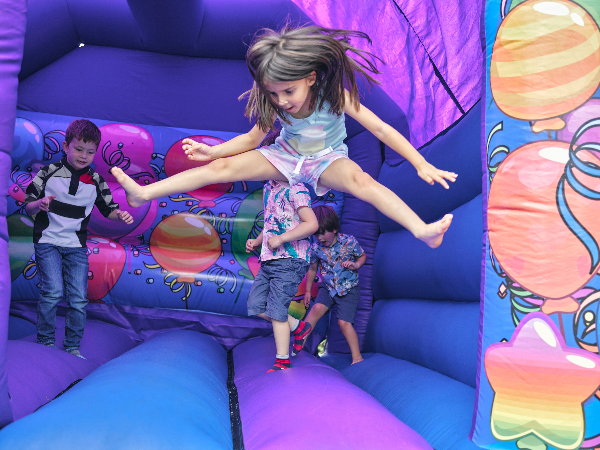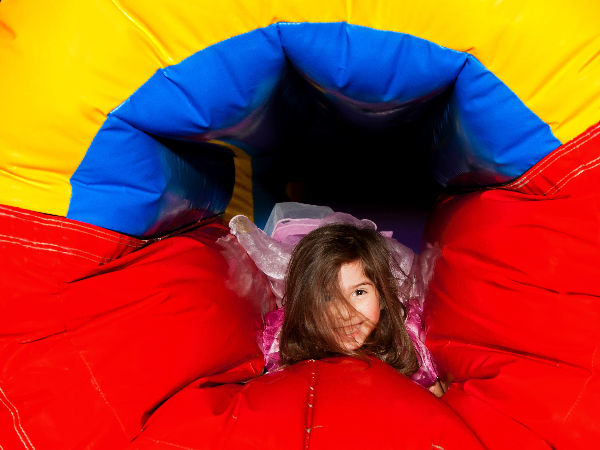 How To Book Our Pearland Bounce House Rentals Online
Jumping into a world of fun and booking Pearland bounce house rentals with Party Kids America has never been easier! With our user-friendly online booking system, you can secure the perfect bounce house for your event in just a few clicks. Here's a detailed step-by-step guide to walk you through the process: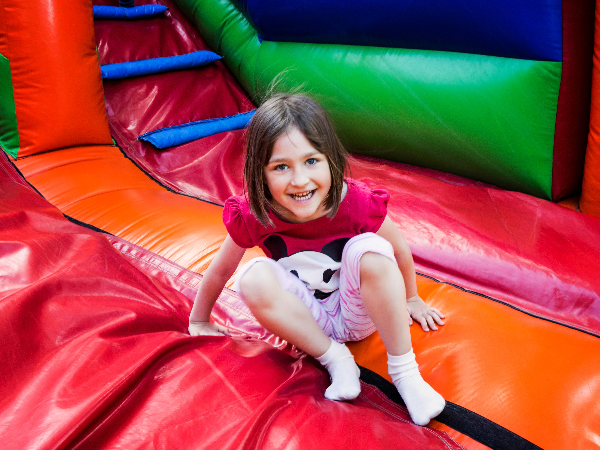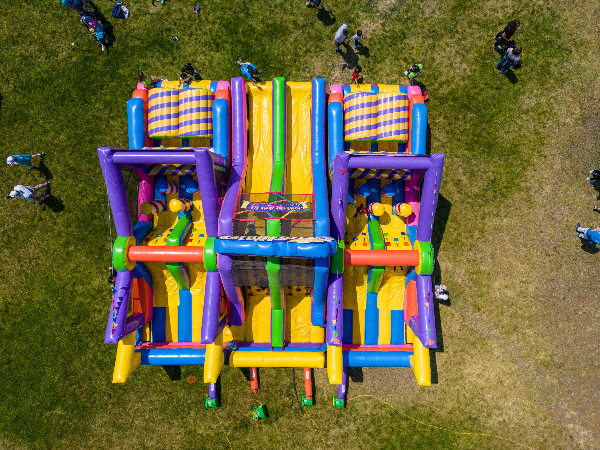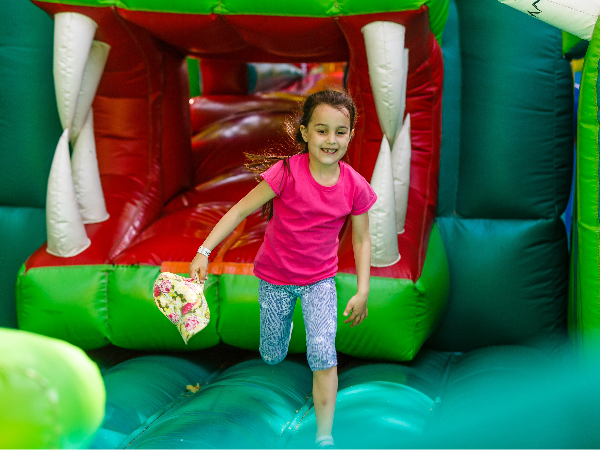 Browse & Select: Click the "All Rentals" tab in our menu bar, then click the "Bounce Houses" category and dive into our diverse collection of bouncers, ranging in themes, sizes, and designs. Each listing provides detailed information about the bounce house, including its dimensions, capacity, pricing, and age suitability. If you're wondering about bounce house rental cost in Pearland TX, you'll find that information on the individual bouncer listings.


Add to Cart: Once you've found the best Pearland bounce house rentals for your event, you'll have the option to "Add to Cart." Should you wish to explore more, feel free to add multiple items! Check out our concessions, event furniture, and the best water slide rentals Pearland has to offer!


Check Availability: Select your event date and timeframe to see if the rental is available.


Review & Proceed: After making your selection, you'll be taken to the order page, where you can review details and add recommended equipment to your cart to complete your order. You'll also be prompted to provide your city and zip code so we can ensure an accurate estimate.


Fill in Details: Proceed to checkout. Here, you'll be prompted to provide necessary event details, including location, contact information, and any special instructions.


Payment: Our secure online payment portal allows for hassle-free transactions. Choose your preferred payment method and follow the prompts. Orders of more than $300 require a nonrefundable $50 deposit.


Confirmation: After successfully booking, you'll receive a confirmation email with all the details of your reservation, including a digital copy of your receipt.


Get Ready to Jump! With your booking secured, all that's left is to wait for the day of your event. Our team will ensure a timely setup, ensuring your guests have a bouncing good time!


If you have any questions or need assistance during your online booking process, our dedicated customer support team is just a call or email away, ready to assist you every bounce of the way! If you'd prefer to work directly with one of our staff members to reserve our Pearland bounce house rentals, call us at (832) 338-5611 and we'll be happy to work with you on securing the best entertainment for your upcoming event.
Delivering Our Pearland Bounce House Rental Across Brazoria County
Our company proudly provides Pearland bounce house rental options across Brazoria County, including the 77047, 77089, 77511, 77545, 77578, 77581, 77583, and 77584 zip codes. We're happy to deliver to our neighboring communities of Missouri City, Rosharon, Bellair, The Heights, and Friendswood, among other cities in the Houston metro area. If you don't see your city or zip code listed, give us a call at (832) 338-5611 to see if we offer delivery in your area today!

Our delivery process is meticulously planned and executed to provide you with a seamless experience. Once you place an order through our online system, our dedicated team springs into action. Each Pearland Texas bounce house rental is inspected, cleaned, and packed with the utmost care. On the day of your event, our professional crew will arrive at the designated location, handling the setup with precision and enthusiasm, kicking off your party day in style!
We take immense pride in our collaborations with local organizations, clubs, businesses, churches, and schools. Our partnerships with Pearland ISD Public Schools have brought smiles to countless school events, including field days, graduation celebrations, fundraisers, and more, elevating community spirit one bounce house at a time. Our customers enjoy hosting events at our wonderful local parks, such as Centennial Park, Independence Park, and South Gate Park, adding a festive touch to public gatherings and outdoor celebrations. Be sure to add a generator, tables, chairs, concessions, and other party must-haves to your cart when planning an event in a public space.

Over the years, our commitment to fostering community relationships by supplying the best Pearland TX bounce house for rent has transformed us into the go-to choice for the area. From small backyard birthdays to large-scale community events, our reputation has been built on trust, quality, and a genuine passion for amplifying the joy in every local celebration. It's more than just business for us; it's about being an integral thread in the colorful tapestry of Brazoria County's community fabric. Browse our amazing selection of Pearland bounce house rental options today and support our locally-owned business while we support your party planning needs.
FAQs About the Bounce House Rentals Pearland Loves
If you have questions about the bounce house rentals Pearland uses to take the fun to a whole new level, you're in the right place! Read through our frequently asked questions below and get in touch with our helpful team if you need any additional information by giving us a call at (832) 338-5611 today!
Q.
Do the bounce houses need to remain plugged in throughout the party?
A.
Yes. The bounce houses require constant power to stay inflated, so be sure to have a cord that can reach the outlet or a generator to keep the bouncing fun going!
Q.
Can you set up the bounce houses on any surface?
A.
The bounce houses should be set up on flat, solid surfaces. Grass is preferred for the safety of the children, and any rocky, jagged, or concrete surfaces should be avoided. We even offer the indoor bounce house rental Pearland TX schools, clubs, and local organizations use in gymnasiums and rec centers if you're looking for indoor entertainment.
Q.
Is a deposit required to rent your bounce houses?
A.
If your total is over $300, we require a $50.00 non-refundable deposit unless there is a cancellation due to weather.
Q.
What ages can play in the bounce house rentals?
A.
We carry industry-grade bounce house rentals Pearland parents, teachers, businesses, and individuals can trust. Our inflatables are typically safe for ages five and up with adult supervision.
Q.
Do you have other equipment besides bounce houses?
A.
Absolutely! As your all-in-one party rental provider, we have everything you need to host a fun-filled and festive event, no matter the cause for celebration. If you're on the hunt for Houston bounce house mechanical bull rental Pearland TX customers can take advantage of, we have interactive rides and games that thrill and delight!
Q.
How much does it cost to rent bounce houses?
A.
If you're wondering how much to rent a bounce house in Pearland TX, you'll be amazed by our cost-effective and competitive rental options, beginning at just $224 for six hours of rental time! We understand juggling a party planning budget can be taxing, which is why we're proud to offer the high-quality, cheap bounce house rental Pearland TX parents use to provide safe, convenient, and affordable fun.
Q.
Does the bounce house rental time include setup and teardown?
A.
No, our staff will arrive prior to your event start time to set up the bounce house and will tear it down after your event ends. Typically, setting up the bounce house rental Pearland Texas chooses first takes about 20-30 minutes, depending on the size and model. Taking it down usually takes a similar amount of time. However, please allocate a bit more time on either end to accommodate any unique site requirements or unexpected challenges.
5-Stars for Our Bounce House for Rent in Pearland TX
Party Kids America takes immense pride in the positive reviews from our satisfied clients when they reserve a bounce house for rent in Pearland TX from our team. These testimonials reflect our dedication to quality, safety, and customer satisfaction. From our exciting selection of bounce house rentals to our professional delivery and setup, the kind words from our customers highlight our commitment to excellence. Many of the reviews make note of our friendly and accommodating staff, seamless online booking process, and cleanliness of our bounce houses. This feedback motivates us to continue providing top-notch service as we strive to make every event a memorable and joyous celebration. Read through a selection of our 5-star ratings below and book online today. Join the community of satisfied customers and experience the Party Kids America difference when you rent a bounce house in Pearland TX from our locally owned and operated business!
What Customers are Saying
"We have used Party kids America twice now for our daughter's birthday. It is easy to book. They come set it up and take it down and the kids had so much fun."
- Marc S
"Kirk is wonderful and worked with me diligently on what I was requesting. The person that did the face painting had exemplary and beautiful work. We will use the company again in the future."
- Sonya P.
"Awesome company! They have a great variety to select from and the 18ft water slide we rented was a ton of fun for both adults and kids! Kirk and Ralph were very professional, responsive, prompt, and setup everything and answered all our questions whenever needed. Entire process was seamless from booking and paying online and overall simple and smooth. Highly recommend this company!"
- AQ
Previous
Next