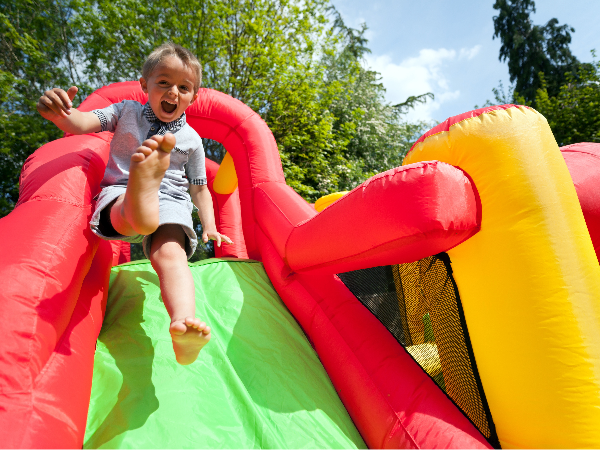 👉This offer is eligible for the following:
• Orders over $250
• People that want to party

Click the link below to get started!
YES! LETS DO IT!
Show Primary and Secondary Categories
Party Kids America
At Party Kids America, we have everything you need. We know that you don't want to work hard to plan activities, make a lot of food, and go to several locations to rent inflatables and equipment, so we provide everything you need. We top off our event and party rentals in Pearland, TX, with friendly service, event planners, sanitized products, and working hours that fit your needs.
Party Rentals & Resources
We've got you covered with:
The best inflatable rentals in Pearland and Sugar Land

Cakes

Caterers

Photographers and photo booths

Concession equipment

Tables, chairs and linens

DJ's

Margarita Machines

And more!
Now here's how to plan an affordable and memorable party: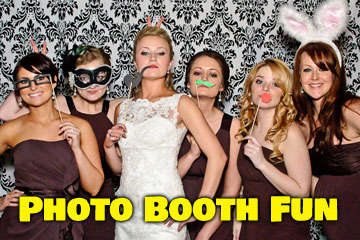 You need fun things to do:


We rent inflatables. You might know them under different names such as moonwalks, bounce houses, bouncy castles or jumpers. They are a lot of fun and always popular. They are also very easy to set up and take down. You provide the open grassy area and we provide the tarps, the inflation tubes, the electric mowers and the extension cords. Most houses will inflate in about five minutes. We have dry slides, water slides and combo bounce houses, climbing walls and trampolines. If you have a hot day, what can be better than a combination bounce house and water slide?
Keep it safe:


Our bounce house rentals and slides in Pearland are a lot of fun and they are safe (but they do depend on common sense on the part of the users). Follow some safety tips for your day to go well. When you are looking at the moonwalk rentals in Pearland, remember that you will need enough space above the inflatable and a neat, flat stretch of open grass underneath. No sharp stones or gravel should be on the ground. Keep sharp sticks, shoes, jewelry, or anything that can puncture the vinyl out of the interior and away from the exterior.

Have an adult monitor the bounce house at all times. The house is perfectly safe as long as it is fully inflated, but if there is a puncture or the blower loses electricity or becomes unplugged, the bouncer should be evacuated quickly. Have someone keep an eye on the inflatable and be prepared to evacuate if it loses air, or the weather takes a turn. Lightning, high winds, or even heavy rain are not good when you are utilizing kids' party rentals in Pearland.

Everyone using the bounce house at the same time should be close to the same size, age and weight. Have the bouncers remove shoes, belts and jewelry, and remind them that they are there to bounce, not to do rough horseplay.

Not everybody should use an inflatable bouncer. People who have back injuries or spine injuries; people who have less than their usual strength; and children with limited mobility or who do not listen to the safety rules should not use our bounce house rentals. Watch for kids who are having trouble of any kind. Pregnant women should also not use the bounce house.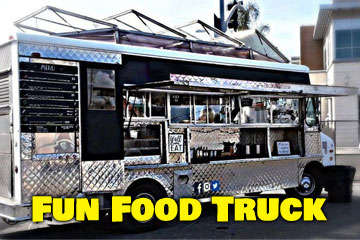 You need great people and great food:


A party is not always about what you get. It's also the fun you have in giving the party. It is not the parties that cost the most, or had the matching plate service that people remember. Whether your guests are adults or kids, they won't remember the money you spent; they remember what they did, who they met and the friends and people they love who were with them that day. We make it easy with rentable concession equipment, so you don't have to spend a lot of time and effort finding event and party rentals in Pearland, TX.

A committed partner to help you out with it all:


At Party Kids America, we are committed to making sure you have all the birthday party equipment you need to make the party great. We will be there on the evenings and weekends to answer any questions or provide you with anything that you might be missing. Whether your event is a birthday party, pool party, sports day, church picnic, or school gathering, our event and party rentals in Pearland, TX, have it covered. We will provide you with everything you need, from popcorn machines to water slides. Your day will be a big hit.

All of our items are inspected and insured by the State of Texas and guaranteed to be clean and in working order by Party Kids America. We provide free delivery to Pearland, Angleton, Alvin, Missouri City, Southeast Houston, and surrounding areas. If you are unsure or have any questions, please call 832-338-5611 and talk to us in person, or send an email to info@partykidsamerica.com.

We want you to have a great time; and remember, it's all easy and affordable when you can get everything you need in one place at Party Kids America.
Party Rental Pearland TX
Book the party rental Pearland TX uses for exciting events-year round from Party Kids America, your trusted one-stop party rental shop! Our mission is to make every celebration a unique and memorable experience. With a wide range of party essentials, from colorful inflatables to interactive rides, it's our goal to make sure your party reflects your personality and vision. We're more than just a rental service; we are partners in joy, helping to create moments that last a lifetime here in Pearland, Texas, and in the surrounding communities of Brazoria County.
When you book the best party rentals Pearland TX has to offer from our locally-owned business, you're investing in top-quality equipment, unbeatable prices, and second-to-none customer service. Our knowledgeable staff of event experts guides you through every step, ensuring a seamless and stress-free experience. With our team of friendly professionals, planning your event becomes a delightful journey, not a daunting task.
We bring an unmatched level of creativity and innovation to the table. Every item in our inventory is meticulously maintained to ensure perfection on your big day. We provide more than equipment; we bring expertise, enthusiasm, and a sparkle of magic to every event, making us the party rental Pearland TX chooses first for all events. Our 5-star reviews from our happy customers are a testament to our commitment to helping throw unforgettable parties, no matter the occasion!
We take pride in transforming ordinary spaces into extraordinary party venues, all according to your theme, guest list, and budget. We're the party rental Pearland TX recommends most for a super special event filled with joy, laughter, and lasting memories. Best of all, we've simplified the rental process with our intuitive online booking system. Whether you're planning a community-wide celebration or an intimate backyard bash, securing the perfect party rentals in Pearland, TX, is just a few clicks away. Navigate through our extensive inventory, select your favorites, and lock in your date—all from the comfort of your home or on the go. It's that easy! If you have any questions or are ready to kick off the festivities, give us a call or book online today!
Party Supply Rental Pearland TX: Where the Fun is UNLIMITED!
We have the party supply rental Pearland TX uses to bring excitement and entertainment to events year-round, each infused with a unique flair that only our team can provide. From the joyful laughter at children's birthday parties to the camaraderie of corporate team-building events, our rental services are designed to meet the specific needs of every celebration. Our inflatables bring a playful touch to school carnivals, community fairs, or family reunions, while our tables and chairs add comfort and convenience to corporate gatherings, festivals, and receptions.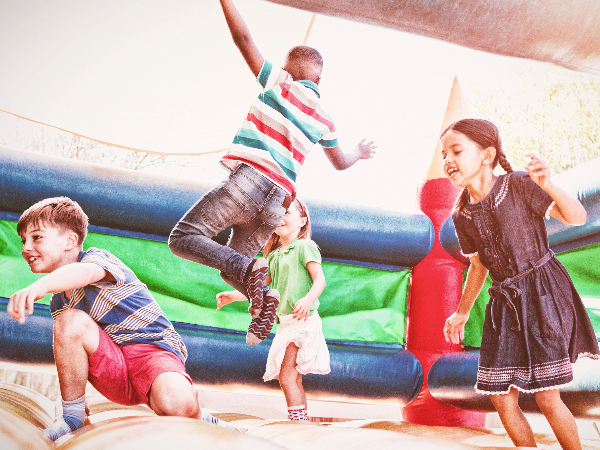 Whether you're planning a city-wide cultural festival or charity event, we're here to provide the party equipment rentals Pearland TX uses to make each function stand out. Seasonal parties, such as Halloween bashes or Christmas celebrations, also come alive with our themed decorations and accessories. Sporting events, graduation parties, and neighborhood block parties are all elevated to the next level of fun with our one-of-a-kind inventory.
We're confident we have the party supply rental Pearland TX recommends for versatility and creativity, offering a wide range of products to help any event turn into an unforgettable extravaganza! Whether you're throwing a backyard birthday party for one of your kiddos or helping plan a community-wide celebration for the entire county, Party Kids America is here to help you do just that...party!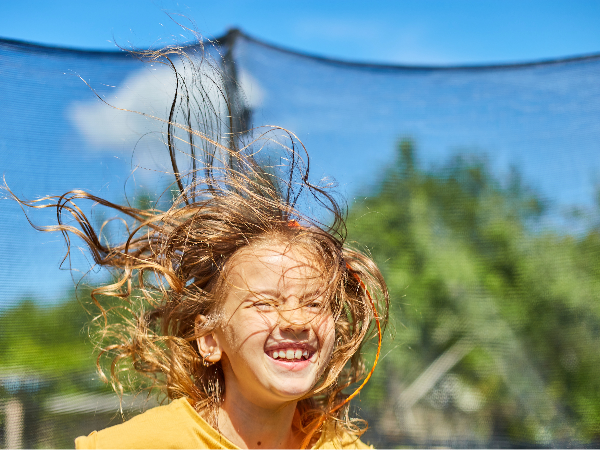 Discover the Ultimate Birthday Party Rentals Pearland TX Kids of All Ages Will Love!
We've got the birthday party rentals Pearland TX uses to take the fun to the next level. Each piece of equipment is carefully maintained to ensure it's in pristine condition, ready to elevate any event. From the simplicity of backyard parties to the grandeur of large corporate functions, our inventory is designed to transform any occasion into a memorable celebration. With Party Kids America, quality and variety come together, creating endless possibilities for unforgettable events. Take a look at the kids party rentals Pearland TX parents can trust below and schedule your delivery online today!
If you ask our team, no large-scale event is complete without a dunk tank. These fantastic party rentals bring excitement to any celebration or get-together and make it worthwhile to test your fastball on whoever chooses to be in the hot seat! There are three opportunities to hit the dunk tank's target and send the "dunkee" plunging into the icy water below. Our dunk tanks are a ton of fun for everyone and make a fantastic fundraising or team-building activity. Making them one of the classic party rentals Pearland TX uses to add excitement to all kinds of events. Our dunk tanks are available to rent beginning at just $450.00.
Beyond our extensive range of party rentals, we offer a vibrant palette of entertainment options tailored to sprinkle that extra dose of magic on your event. Let our talented balloon artist twist and shape colorful creations, captivating young minds and igniting their imaginations. Meanwhile, our skilled face painter can transform little faces into whimsical characters, fierce animals, or beautiful butterflies, ensuring that every child shines in their own unique way. Dive into our world of entertainment, and let us color your party with moments of joy, wonder, and laughter!
Try taking the bull by the horns with our mechanical bull rental! Mechanical bull rentals are a popular choice for events and parties. They provide a fun and exciting experience for guests of all ages. Renting a mechanical bull is a great way to increase the energy level at your next event. There are a few things to remember when renting a mechanical bull. All ages are welcome on our bull rides. However, the bull's carrying capacity must be taken into account. If you have any questions about whether or not a particular bull has a higher weight limit than 250 pounds, please do not hesitate to ask a member of our staff. Our mechanical bull rentals are available to rent for $575.00.
Customers looking for the best children's party rentals Pearland TX has to offer will love our Trackless Train Rental. This fantastic train is safe, trackless, and big enough to carry both kids and parents. It provides hours and hours of fun, and it can even serve as a unique form of parking lot transportation. This wonderful train rental is available to rent for $575.00 per hour.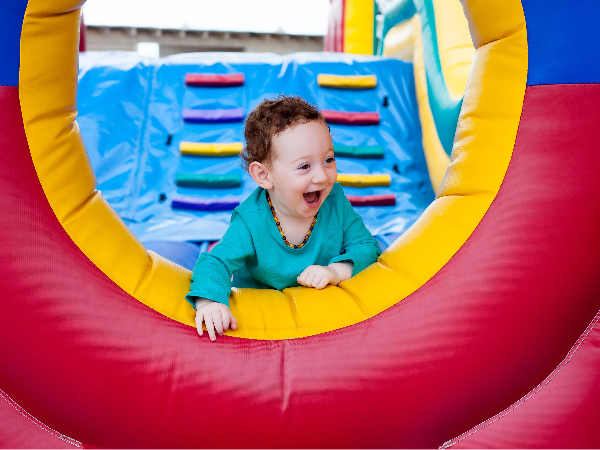 Be sure to check out our exciting range of selections and party essentials, including the best bounce house rental Pearland can provide! We have no shortage of entertaining and delightful options that will "wow" your entire guest list.
How to Book Party Rentals in Pearland TX Online
Booking party rentals in Pearland TX with Party Kids America has never been easier, thanks to our user-friendly online rental system. No more lengthy back-and-forth calls or visits are necessary because our digital platform brings convenience to your fingertips. In mere seconds, you can browse our inventory, select your favorites, and reserve them for your event date with ease. It's straightforward, fast, and designed with your busy schedule in mind.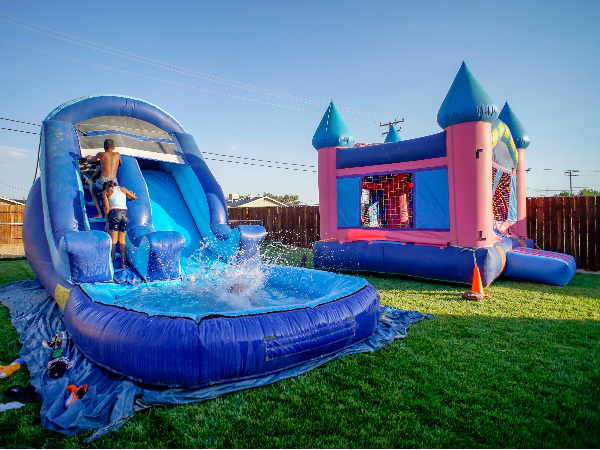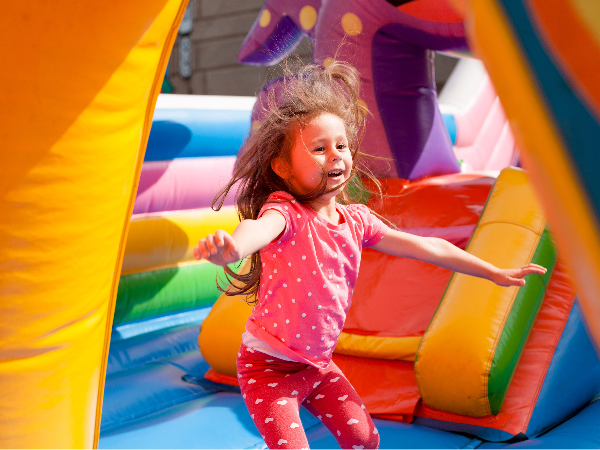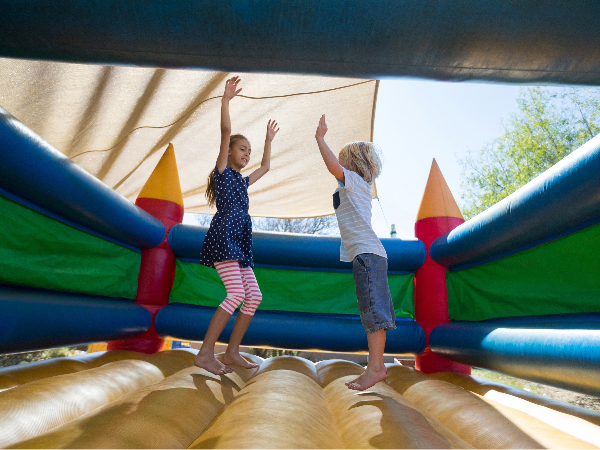 We're thrilled you've chosen Party Kids America for your upcoming celebration! To make things as seamless as possible for our lovely clients, we offer two super convenient ways to secure your party rentals: either online or over the phone. Here's a step-by-step guide to ensure your booking is a breeze!
To book inflatable party rentals Pearland TX can't get enough of online, follow the steps below: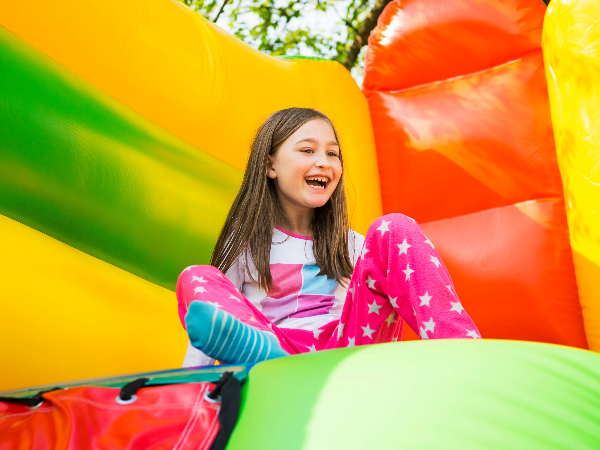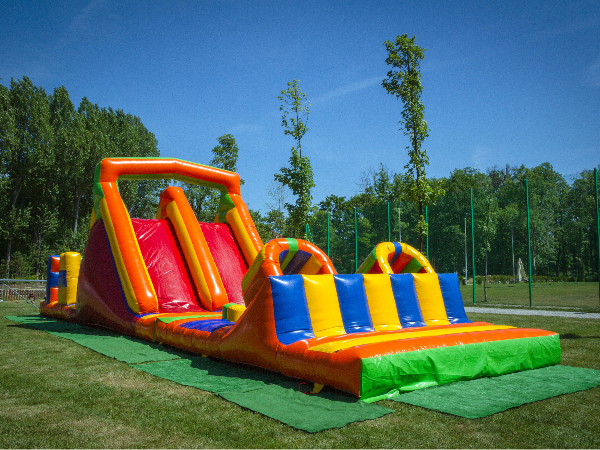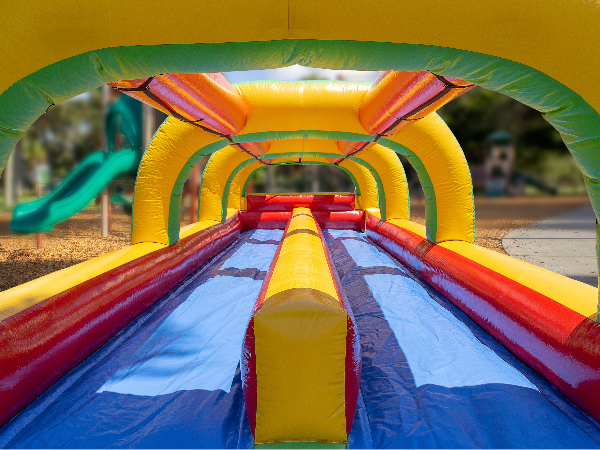 Browse & Select: Navigate through our extensive range of party rentals. From bouncy castles to tables and chairs, pick whatever party rental in Pearland TX catches your fancy!


Party Date & Time: Once you've made your selections, add them to your cart and choose your desired date and time for delivery and setup. Our online calendar will show available slots, so you can pick the party rentals in Pearland TX that suit you best.


Checkout: Proceed to the checkout page. Here, you'll fill in your event details, delivery address, billing information, and contact information.


Payment: Securely enter your payment details using any major credit card. Don't worry; our online platform is encrypted and safe.


Confirmation: After payment, you'll receive a confirmation email with your booking details and a digital receipt. Keep this handy for reference, just in case.


If you'd prefer to speak directly with one of our fabulous party professionals over the phone, give us a call at (832) 338-5611 and we'll be happy to walk you through the premier party rentals Pearland TX chooses for events big and small! Whether you're tech-savvy and love the efficiency of online bookings or prefer the personal touch of a phone call, we've got you covered. If at any point you have questions or need assistance, don't hesitate to reach out. Let's make your event truly spectacular with exciting party rentals in Pearland TX. Dive into the world of digital convenience and let us help you orchestrate a flawless celebration effortlessly!
Delivering Exciting Party Rentals Near Pearland TX, and Across Brazoria County
We're proud to be the go-to choice for party rentals near Pearland TX! At the heart of Party Kids America isn't just fun and games - it's a deep-rooted commitment to our beautiful community of Brazoria County. We believe in making parties and memories that bind our community closer together. We're happy to provide delivery to the 77047, 77089, 77511, 77545, 77578, 77581, 77583, and 77584 zip codes in Brazoria County, as well as the neighboring cities of Bellaire, Manvel, Sienna, Southside Place, and Missouri City. If you're searching for the best party rentals Pearland TX 77581 zip code has to offer, you're in the right place!

Our roots are embedded in Pearland, and we've formed incredible partnerships with local businesses. From cafes to retail shops, these collaborations allow us to create comprehensive party packages and epic events. When you rent with Party Kids America, you're not just supporting us but a whole network of local enterprises! Through fundraisers, school fairs, and other educational events, we've had the joy of bringing laughter and learning together, helping Pearland ISD raise funds and spirits.
If you're hoping to host an event at one of our fabulous local parks, including Centennial Park, Independence Park, or South Gate Park, we have everything you need to make sure your guest list has a riveting time from start to finish, including tables, chairs, and a generator to ensure the inflatable fun never stops! There's no need to continue to search for "party rentals near me Pearland TX" because you've found the top-rated locally-owned option with us. Whether it's a community fair, a family picnic, or a corporate team-building event, we provide thrilling rentals to transform these beautiful public spaces into festive venues.

Our company is synonymous with reliability and must-have party rentals near Pearland TX for every special occasion. Our vast service area, thoughtful partnerships, and commitment to customer satisfaction make us the preferred choice for party rentals in the area. Whether it's a small backyard bash or a county-wide festival, we're here to deliver entertainment, excitement, and endless special moments. Book party rentals near Pearland TX online today!
FAQs About Our Pearland TX Party Rentals
Read more about our Pearland TX party rentals in our convenient frequently asked questions section, and get in touch with our team if you need any additional information before scheduling your rentals today!
Q.
What kind of party rentals do you offer?
A.
At Party Kids America, we offer a wide range of party rentals in Pearland, TX, from bounce houses, water slides, and interactive games to tables, chairs, and tents. Our goal is to turn your event into a fun-filled extravaganza! If there's something specific you're looking for, just give us a shout, and we'll do our best to accommodate your needs.
Q.
How do I ensure the safety of the kids using your equipment?
A.
Safety is our top priority! All our equipment is routinely inspected, cleaned, and maintained to ensure it's in tip-top shape for every event. We also provide clear usage instructions and safety guidelines for each rental. And if you ever have any concerns, our friendly team is just a call away to assist with our Pearland TX party rentals.
Q.
How far in advance should I book my rental?
A.
We recommend booking as early as possible to ensure availability, especially during peak party seasons like summer or major holidays. However, we always strive to accommodate last-minute requests. So if you're in a pinch, don't hesitate to contact us, and we'll do our best to make your party dreams come true with our Pearland TX party rentals!
Q.
Do you offer any discounts?
A.
Yes! If you submit your name, email address, and phone number through the form on this page, you'll receive $50 off your first order with us, and you'll be sent regular information about exclusive discount opportunities in the future. We understand many customers are searching for cheap party rentals Pearland TX can count on to be high-quality and safe, which is where our fantastic inventory comes into play!
Q.
How long is the rental timeframe?
A.
Our standard rental time is six hours. If you'd like to use the inflatable party rentals Pearland TX kiddos can't get enough of for longer than that, no worries! Just let us know your event timeframe when checking out, and we'll calculate your custom total. You can book our equipment for the full day for just an extra 20% more or keep the party going all night long with an overnight rental for 60% more!
Q.
How do you ensure the cleanliness and sanitation of the rentals?
A.
Health and safety are paramount for us. Each rental item undergoes a rigorous cleaning and sanitation process after every use. Our team uses approved cleaning agents to ensure that our equipment is not only safe but also feels brand-new for your event. When you book party rentals in Pearland Texas from Party Kids America, you can rest assured you're getting fully inspected, sanitized, and safe equipment.
Q.
Does the listed price include setup and delivery?
A.
The base price includes set up and six hours of rental time. It does not include delivery. Those fees are charged based on your distance from our office at 11601 Shadow Creek Parkway Pearland, TX 77584. Input your delivery address when checking out to see an exact estimate of what you'll owe based on your location, including delivery fees, taxes, and the rental itself.
Q.
Do I have to make a deposit to reserve the party rentals?
A.
Yes. We require a $50 non-refundable deposit for orders over $300.
Q.
What happens if I need to cancel due to the weather?
A.
We understand that Texas weather is unpredictable. If you are canceling due to a weather-related incident, you can reschedule at no additional charge. In an effort to keep our staff and equipment safe, we reserve the right to cancel your reservation in the event of rain, winds over 20 mph, and temperatures below 40 degrees. If there's a chance of severe weather leading up to your event, our team will be in touch to discuss rescheduling. Booking Pearland TX party rentals from our company means always prioritizing safety, so we will work with you and provide a "rain check" to be used in the future.
Q.
Are there any restrictions on where the rentals can be set up?
A.
Our rentals are versatile, but certain items may require flat surfaces or specific space considerations. Please ensure that you set up at least 20 ft. away from overhead power lines. For wet inflatables, you'll need a water source within 50 ft. of the setup location. Additionally, an electrical outlet should be available and within 50 ft. of the inflatable. We aim to ensure the safety and longevity of our equipment, as well as the fun of your guests!
5-Star Rated Pearland Texas Party Rentals for All Occasions!
Pearland Texas party rentals
just got a 5-star stamp of approval from our wonderful customers. We create unforgettable fun with a vast collection of rentals that make every event a total hit, turning regular backyards into mini amusement parks. Booking with us is as easy as pie (or, should we say, as easy as a slice of birthday cake?). Our straightforward process, transparent pricing, and super responsive team make sure you get what you want when you want it, so you don't have to sweat the little details and can spend more time focusing on enjoying your event with our exciting Pearland party rentals. Ready to turn the fun up to 11? Let's get the party started! Read through a selection of our glowing reviews below and book party rentals in Pearland Texas, online today!
What Customers Are Saying - Victoria D.
Party Kids America did an OUTSTANDING job with my son's first birthday. We ordered the track-less train, and it was a huge hit with the kids. Communication with the team was very easy, and they arrived right on time for the party. Highly recommend ordering your party rentals from Party Kids America. We definitely will be ordering from them again. - Tina C.
We used Party Kids America this last weekend for my daughter's birthday party and we had a blast! We got the double curved water slide. (It was awesome!). The customer service, personality and kindness of their staff is outstanding! We will be using them again and do highly recommend them as well! See y'all again soon!
Recently
Viewed