18 Ft. Dual Lane Curve Waterslide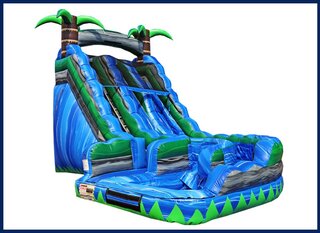 22 Ft Melting Ice Waterslide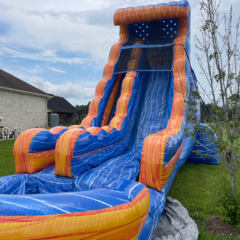 22 Ft Blazing Tides Waterslide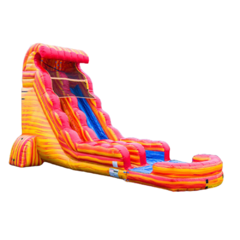 18 Ft Blue Crush Waterslide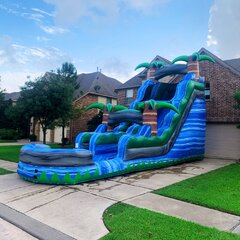 "Red and Blue for You" Waterslide (13 Ft.)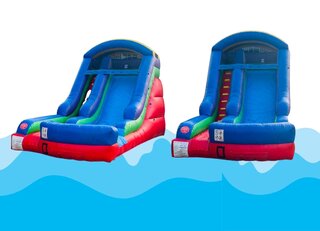 T-Rex Combo Bouncer Water Slide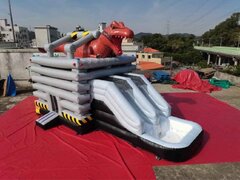 21ft Dual Lane Purple Tropical Combo Bouncer Waterslide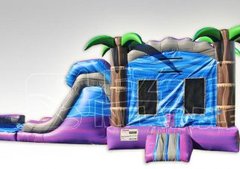 13 FT Unicorn Dual Lane Combo Bouncer Water Slide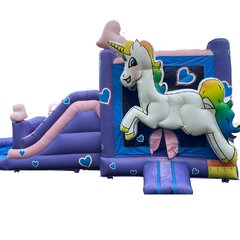 Elephant Combo Bouncer Water Slide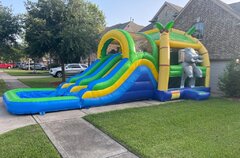 15ft Dual Lane King Multi Color Combo Bouncer Water Slide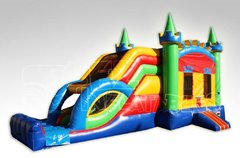 17ft Single Lane 5 and 1 Pirate Combo Bouncer Waterslide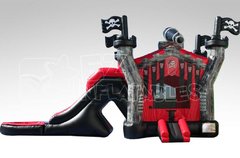 13ft Small Pirate 3 IN1 Combo Bouncer Water Slide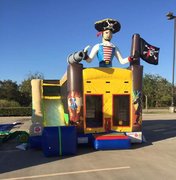 17ft 5 in 1 Single Lane Crayon Combo Bouncer Waterslide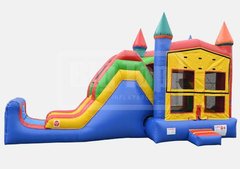 Princess Rapunzel Combo Bouncer Waterslide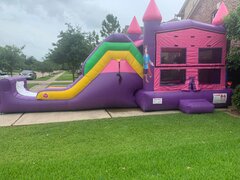 Ameircan Bouncer Slide (wet)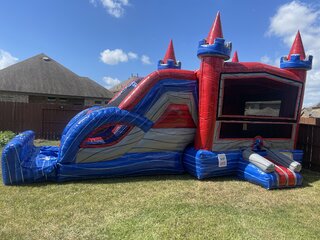 Water Slide Rentals Pearland
Party Kids America is your go-to choice for the water slide rentals Pearland can't get enough of. Offering an impressive collection of water slides that cater to all age groups, our rental service is designed to bring the excitement of a water park right to your doorstep. With various sizes, themes, and designs, our water slides are the perfect addition to any outdoor event, from children's birthday parties to community festivals in Pearland, Texas, and the surrounding areas of Brazoria County.
What sets us apart from our competitors is our unwavering commitment to quality and safety. Each water slide undergoes rigorous inspection and cleaning before every rental, ensuring a safe and enjoyable experience for all and allowing us to provide the water slide rentals Pearland can trust. Our professional team takes care of the setup and takedown, allowing you to focus on what matters most—having fun! The top-grade materials used in our water slides guarantee durability, while the innovative designs promise thrilling rides.
Convenience is key, and that's why our online booking system is streamlined to make your rental process as easy as possible. Browse our website, select the perfect water slide, choose your date, and leave the rest to us. Our delivery extends across Pearland, TX, ensuring that our top-of-the-line water slides are accessible to everyone in the area. Party Kids America has earned a reputation for excellence. Our water slide rentals have delighted countless customers, transforming ordinary backyards into extraordinary aquatic playgrounds. Discover why we're the top choice for the water slide rentals Pearland prefers. Come take the plunge into a world of fun and excitement where splashing joy awaits at every turn!
Water Slide Rental Pearland: Dive into Splash-Tacular Fun for Every Event!
Choose the water slide rental Pearland customers use to add excitement to all events, big and small! Whether you're throwing a simple backyard birthday party or an over-the-top graduation celebration, our selections provide non-stop fun for all ages and attendees. From family reunions and school field days to block parties and festivals, we've had the pleasure of delivering water slides Pearland loves for just about every special occasion.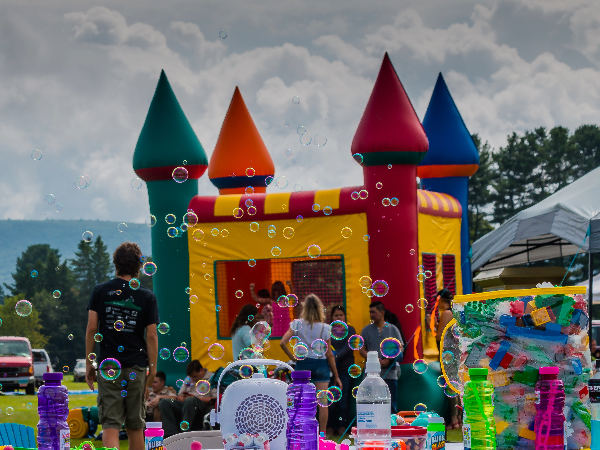 Our water slides are versatile centerpieces that bring exhilaration and joy to a wide range of events. If you're wondering where you can introduce a splash-tastic element, here are some occasions where water slides are a huge hit:
Birthday Celebrations: This might seem obvious, but whether it's for the young or the young-at-heart, we have the water slide rental Pearland TX uses to add that extra layer of excitement, making birthdays truly memorable.



Family Reunions: Imagine the delight of cousins, siblings, and even adventurous aunts and uncles racing down water slides, bringing family members of all ages closer together in a wave of laughter and fun.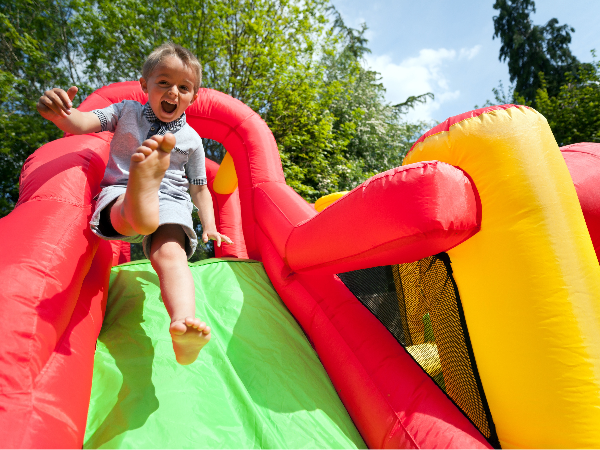 Corporate Picnics: Want to add a relaxed, fun vibe to your company's annual picnic? A water slide is a great way to break the ice and allow colleagues to bond in a laid-back setting.

School and Church Carnivals: From end-of-year school fun days to church community gatherings, water slides add a wholesome touch of enjoyment, ensuring kids and families have an engaging and entertaining time.

Fundraisers: Hosting a community fundraiser or charity event? Charging a small fee for turns on a water slide can be a novel way to raise money while ensuring attendees have a blast.

Neighborhood Block Parties: Transforming an ordinary street gathering into a vibrant summer fiesta is as simple as adding a water slide. It's a great way to foster neighborhood camaraderie.

Sports Team Celebrations: After a long season or a big win, there's nothing like a water slide to let young athletes kick back, relax, and enjoy some non-competitive fun. We offer the water slide rental Pearland Texas coaches, parents, and schools trust!

No matter the occasion, water slides from Party Kids America guarantee a deluge of smiles, laughter, and unforgettable moments. Ready to elevate your event with a splash? Dive into our collection and select the perfect slide for your next gathering.
Fun Selection of Water Slide Rentals in Pearland
We offer an impressive selection of water slide rentals in Pearland, catering to a broad range of themes, guest lists, age groups, and event types. From towering slides with thrilling twists to more straightforward options for younger children, our inventory is designed to entertain and delight participants of all ages. Our water slides come in various themes, colors, and sizes, allowing you to find the perfect match for your occasion. Quality and safety are our top priorities, and each slide is maintained, inspected, and sanitized to ensure a fun and safe experience. Take a look at a selection of our exciting water slide rentals in Pearland below and book online today!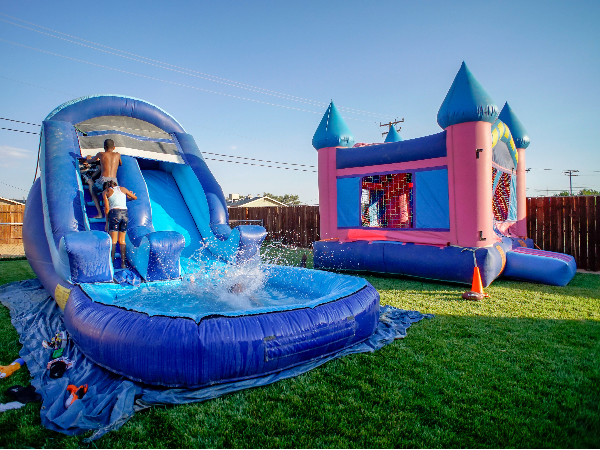 Our 18-foot Blue Crash Waterslide is a hit with customers looking for a visually appealing and functional water attraction. With its ocean-blue color and two inflatable palm trees at either end, this irresistible waterslide invites attendees to give it a try! Made with high-quality vinyl that's fire-resistant and lead-free, this slide is constructed with safety in mind for hours of fun, making it the water slide Pearland parents can rent without worry. The vibrant blue color scheme adds a refreshing touch to any backyard or pool party, instantly transforming your space into a water park oasis. This waterslide is available to rent beginning at $400.00.
Customers looking to go bigger will love our exhilarating 22-foot Blazing Tides Water Slide. This large water slide is ideal for kids and adults who need a fun and exciting way to cool down. It features a dual-lane slide that leads to a refreshing pool below, which makes it ideal for summertime rentals. Beginning at $410.00, the Blazing Tides is perfect for neighborhood block parties, school field days, and community fairs.
Customers seeking the most exciting water slides in Pearland will line up for our 18-foot Dual-Lane Curve Waterslide! This impressive water slide was crafted to turn your backyard into a fun-filled summer destination. This water slide features the signature ocean blue color and dual lane slides, but the difference is that as you near the bottom, the slides curve and lead into the splash pool. This is a guaranteed show-stopping attraction and is available to rent beginning at $450.00.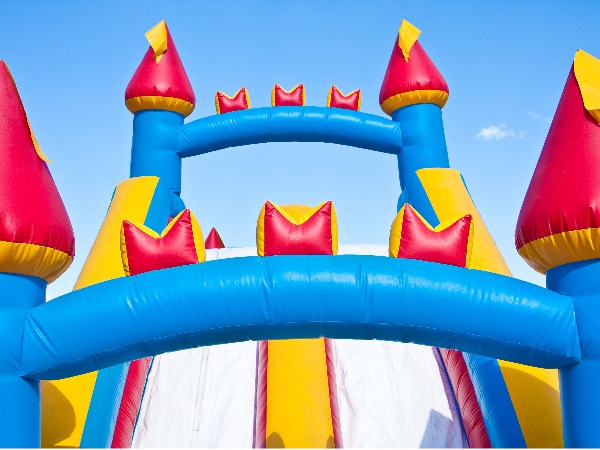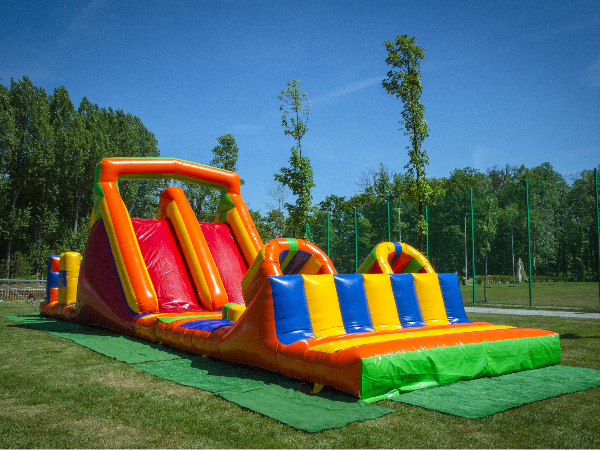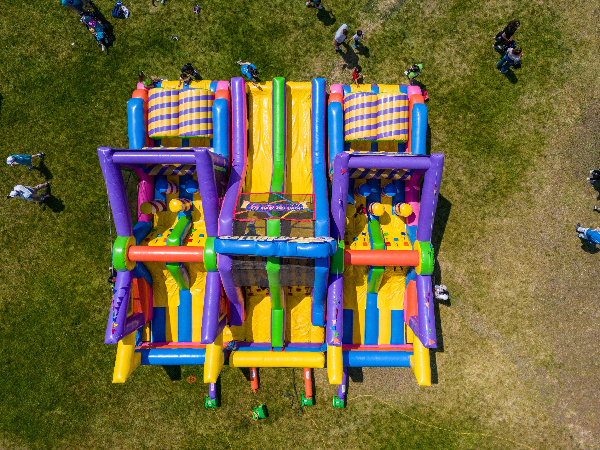 Water Slides for Rent Pearland and Other Areas Depend On
We carry the water slides for rent Pearland and the surrounding areas of Brazoria County can count on to provide endless laughter and entertainment all year long! When it comes to ensuring a splash-tacular event, Party Kids America stands out as the premier choice in Pearland and beyond. But why should we be your first port of call for water slide rentals? Along with providing unmatched customer service, we carry an expansive inventory, offer flexible scheduling options, and guarantee safe, reliable fun for all ages.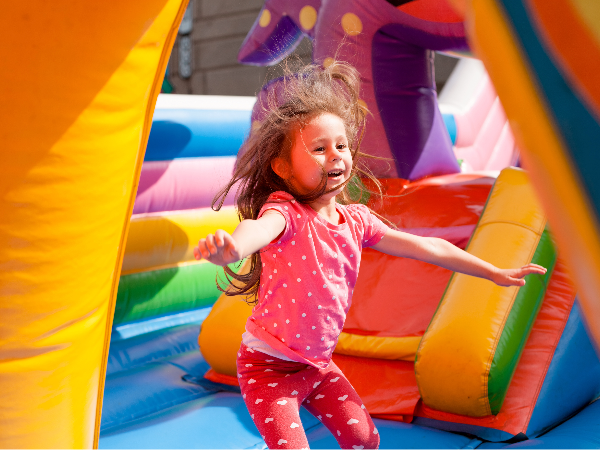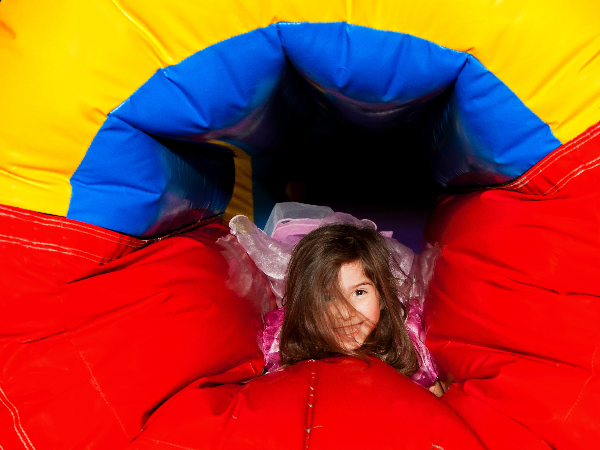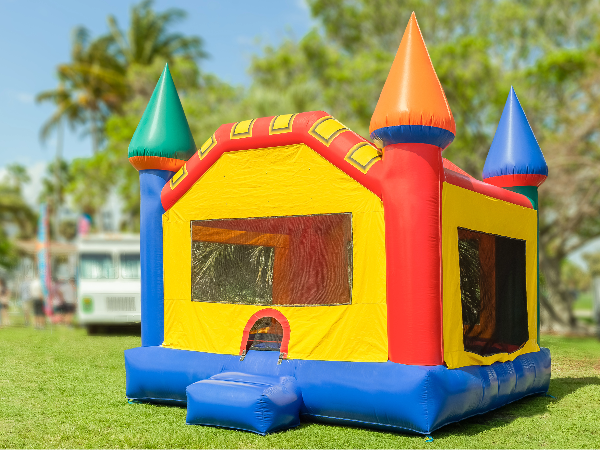 Our 16-foot Ocean Oasis Water Slide is a hit with customers looking for a visually appealing and functional water attraction.


Customers looking to go bigger will love our exhilarating 22-foot Blazing Tides Water Slide.


Customers seeking the most exciting water slides in Pearland will line up for our 18-foot Dual-Lane Curve Waterslide!


In a sea of options for waterslides for rent in Pearland, Party Kids America stands as a beacon of trust and excellence. When you work with our team, you're choosing an experience crafted with passion, expertise, and an unwavering commitment to your satisfaction. Dive into an unparalleled rental journey and watch your events make a splash like never before!
How to Easily Book Water Slide Rentals Pearland TX Uses Year-Round!
Booking the water slide rentals Pearland TX uses to help attendees beat the heat and have fun in the sun has never been easier! Just browse our website using your phone, tablet, or laptop, add your favorites to your cart, and complete your reservation with a few easy clicks. You can also give our team a call directly at (832) 338-5611 and we'll be happy to walk you through the process.
Ready to add some splash to your celebration? Here's how you can effortlessly secure your waterslide in Pearland online with Party Kids America:
Dive into the "Water Slides" Section: Click on the "Water Slides" tab in the main navigation bar, showcasing our varied and vibrant collection of slides.


Make Your Selection: Browse our diverse range of slides, each accompanied by clear photos, dimensions, and descriptions. Whether you're hosting a small backyard gathering or an exciting large-scale community event, you'll find a slide that perfectly fits your needs.


Click to Reserve: Found the one that caught your eye? Click on the "Book Now" button adjacent to your chosen slide to begin the reservation process, then click the "Add to Cart" button after reviewing the details.


Fill in the Details: You'll be prompted to provide specific event details, such as the date, time, location, and any special instructions. This ensures that we're fully prepared to meet your expectations.


Confirmation: Once you've submitted your booking form, a confirmation email will be sent to your provided email address. This email will outline all the details



And there you have it! In just a few simple steps, you've ensured that your event gets the splash-tacular touch it deserves. As always, should you have any questions during the booking process, our team is just a message or phone call away, ready to assist.
Delivering Waterslide Rentals Pearland and Surrounding Areas Can't Get Enough Of
Party Kids America is proud to offer waterslide rentals Pearland and Brazoria County depend on to increase the fun, including in the zip codes 77047, 77089, 77511, 77545, 77578, 77581, 77583, and 77584. We're happy to support our neighboring cities with exceptional water slide options and offer delivery in Missouri City, Rosharon, Bellaire, The Heights, Friendswood, and other parts of the Houston metro area. If your zip code or city isn't listed here, get in touch with our team via phone or email to see if we can add some fun and excitement to your upcoming event with the #1 waterslide rentals Pearland has to offer.

At Party Kids America, we're not just another party rental provider - we're part of the community fabric. Deeply rooted in our hometown vibes, we've had the pleasure of collaborating with local businesses, schools, community organizations, and churches, ensuring every event feels uniquely 'Pearland.' We're a proud partner with Pearland Independent School District, and you might have even spotted our inflatables lighting up kids' faces at the school carnival or our setups adding that special touch to a local business meet-and-greet.
Pearland has no shortage of wonderful parks that are perfect venues for celebrations of all varieties. Whether you're planning an event at Centennial Park, Independence Park, or South Gate Park, we have no doubt it'll be lively and well-attended with the waterslide rentals Pearland TX loves most in the mix. When planning an event outdoors, be sure to include a generator, tables, chairs, concessions, and any of our options for party rentals Pearland TX relies on to your cart to ensure the fun doesn't stop.

With our mix of local understanding and commitment to quality, we're dedicated to making every event, big or small, resonate with a touch of community warmth across Brazoria County. Because at Party Kids America, every celebration isn't just an event; it's a community get-together, and we're all in it together. Cheers to many more shared moments and memories, Pearland!
FAQs Waterslide Rentals Pearland Trusts to Bring the Fun
If you have any questions about our Pearland water slide rentals, read through our frequently asked questions below and get in touch with our team by giving us a call at (832) 338-5611 to speak directly with one of our staff.
Q.
How much does it cost to rent water slides?
A.
Our prices for the waterslides rentals in Pearland vary depending on a few factors, including the size and style of the slide, the rental timeframe, and the delivery location. Our slides begin at $300 and increase from there depending on those variables. If you're looking for cheap water slide rentals in Pearland TX, we're confident we have competitively priced options that will cater to all budgets, themes, and event types.
Q.
What is the weight limit for water slides?
A.
The weight capacity for water slides generally falls between 250 to 300 pounds. However, certain slides might accommodate a lighter weight range, so always consult with our team prior to booking Pearland water slide rentals.
Q.
Are set-up and tear-down part of the rental timeframe?
A.
No. Our team will arrive early to assemble the slide, make sure everything's working properly, go over any necessary guidelines, and be out of your hair so you can focus on your guests. We will return to pack up the Pearland water slide after your even timeframe has ended. We'll communicate all of this to you leading up to the event, but if you have any questions or need a specific drop-off or pick-up timeframe, give our team a call.
Q.
What type of payment do you accept for your waterslide rentals?
A.
Payment options include PayPal or cash. Churches, businesses, and schools can all send in checks when booking Pearland water slides rentals from our company.
Q.
Do we need to clean the waterslides after use?
A.
No, our customers will not have to clean up the waterslides in Pearland when they are finished renting them. After a rental pick-up, we sanitize and inspect all the equipment, so our customers always receive like-new equipment.
Q.
Are customers responsible for any damage?
A.
Customers are not responsible for any normal wear and tear of the Pearland water slides; however, if damage occurs due to neglect or a violation of the safety rules, customers will be responsible for the replacement of all damaged equipment.