"Red and Blue for You" Waterslide (13 Ft.)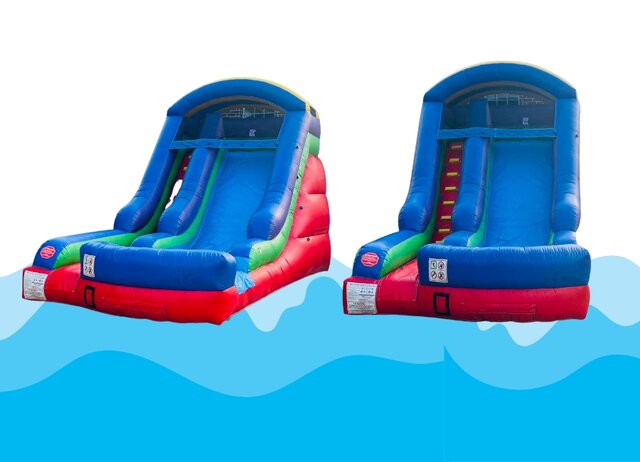 Description
Introducing the "Red and Blue for You" Waterslide, the ultimate thrill-seeking adventure that will make a splash at your next outdoor gathering! Get ready to embark on an exhilarating journey of twists, turns, and endless fun.
Crafted with utmost attention to detail, this vibrant waterslide is designed to ignite your imagination and provide hours of entertainment for both children and adults alike. The combination of fiery red and cool blue hues creates a visually captivating slide that stands out in any backyard or event space.
Measuring an impressive length, the "Red and Blue for You" Waterslide guarantees non-stop excitement. Climb up to the summit, feel the anticipation building with each step, and prepare for an adrenaline-pumping descent. As you take the plunge, experience the rush of water cascading around you, propelling you forward at thrilling speeds.
Safety is our top priority, which is why this waterslide is constructed with durable, high-quality materials. The reinforced seams and sturdy PVC fabric ensure stability and longevity, allowing for countless rides without compromising on safety. Additionally, the slide features side walls and safety handles, offering a secure grip and peace of mind as you navigate the twists and turns.
Setting up the "Red and Blue for You" Waterslide is a breeze. With its user-friendly design, you can quickly inflate and deflate the slide, making it convenient to store and transport. Whether you're hosting a summer party, a community event, or simply looking to add some excitement to your backyard, this waterslide is the perfect addition to create lasting memories.
Get ready to make a splash and turn your outdoor space into a water wonderland with the "Red and Blue for You" Waterslide. It's time to embrace adventure, defy gravity, and revel in the joy of a thrilling water ride. So, gather your friends and family, slip into your bathing suits, and prepare for an unforgettable experience that will leave everyone craving more!