Dunk Tank Water Dunk Party Rental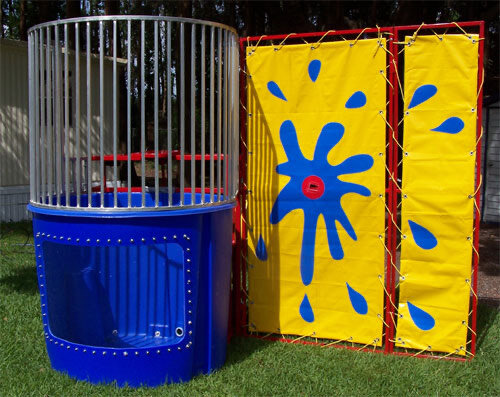 Actual Size: 5'L X 6'W X 9'H
Description
Choose who will be the lucky contestant to sit on our dunk tank and watch them get soaked! Choose your youth pastor, teacher, your parents, or even your boss to sit on the seat of the dunk tank as an incentive for guests to participate.
Participants get three attempts to throw their fastball at the target on the dunk tank to drop the "dunkee" into the tank of cold water. Our dunk tanks are also great fundraising activities as well as great morale boosters.
Rent A Dunk Tank
A dunk tank is a great way to cool down and have a lot of fun at the same time. Our dunk tanks are always a popular attraction at events, and we have a blast setting them up for all types of festivities. If you're looking to rent a dunk tank with Party Kids America, you're in luck!
So why should you rent a dunk tank? Here are just a few reasons:
1. They're a ton of fun!
2. They're perfect for hot summer days.
3. They're great for fundraisers and charity events.
4. They're perfect for corporate events and team-building exercises.
5. They can be used for educational purposes (teaching kids about water safety, for example).