Dunk Tank Pearland TX
Splashin' fun and laughter await at your next event with Party Kids America's Dunk Tank Rentals! Designed to entertain and bring joy, our dunk tanks are the perfect blend of wet and wild excitement for kids and adults alike. Whether you're aiming to soak the boss or challenge your friends, our dunk tanks offer a refreshing twist that promises endless entertainment. From birthday parties to community fairs, Party Kids America's Dunk Tank Rentals add a splash of unforgettable fun, turning any gathering into a memorable experience. Dive into the excitement, Big Boss, and let's make a splash at your next event!
Dunk Tank Water Dunk Party Rental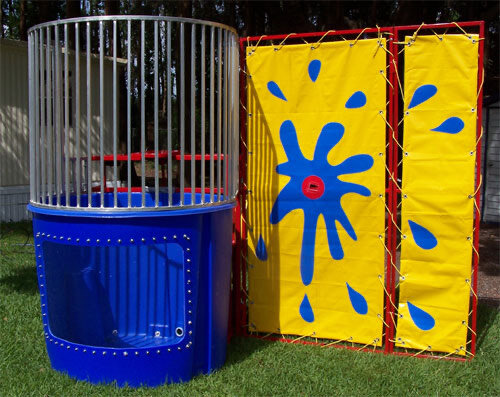 Currently not accepting online payments. Please call or text to reserve (832)338-5611
Actual Size: 5'L X 6'W X 9'H
Description
Choose the lucky contestant to sit on our dunk tank and watch them get soaked! Choose your youth pastor, teacher, parents, or even your boss to sit on the dunk tank seat as an incentive for guests to participate.
Participants get three attempts to throw their fastballs at the target on the dunk tank to drop the "dunkee" into the tank of cold water. Our dunk tanks are also great fundraising activities and morale boosters.
Rent A Dunk Tank
A dunk tank is a great way to cool down and have a lot of fun at the same time. Our dunk tanks are always a popular attraction at events, and we have a blast setting them up for all types of festivities. If you want to rent a dunk tank with Party Kids America, you're in luck!
So why should you rent a dunk tank? Here are just a few reasons:
1. They're a ton of fun!
2. They're perfect for hot summer days.
3. They're great for fundraisers and charity events.
4. They're perfect for corporate events and team-building exercises.
5. They can be used for educational purposes (teaching kids about water safety, for example).
Dunk Tank Rental in Pearland TX
Quality and safety are our top priorities at Party Kids America, and our dunk tanks are no exception. Each tank is meticulously inspected and maintained, ensuring a safe and enjoyable experience for everyone. Our expert team will handle the setup, walk you through the tank setup and filling, and be on hand to ensure everything runs smoothly. With a variety of challenges and difficulty levels, Party Kids America has the perfect dunk tank to make your event a hit. Step up to the challenge and let the fun begin! Be sure to check out the rock wall rentals Pearland TX uses for events of all sizes and varieties.