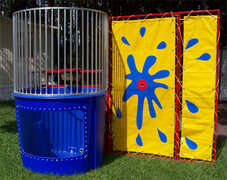 Carnival Games For Kids
At Party Kids America, we pride ourselves on creating unforgettable experiences for children's parties. We understand the importance of providing a wide range of exciting activities that keep kids entertained and engaged throughout the event. That's why we offer an extensive selection of carnival games that are sure to be a hit with children of all ages.
Rent A Dunk Tank!
All About Our Carnival Games!
One of our most popular attractions is the Dunk Tank. There's nothing quite like the anticipation and excitement of watching someone get dunked into a tank of water. Whether it's a friend, a parent, or even a favorite teacher, the Dunk Tank brings loads of laughter and good-natured fun to any party. It's the perfect way to cool off on a hot summer day and adds an element of friendly competition to the festivities.
For those looking for a more exhilarating experience, our mechanical bull is a must-try. Hop on and hold on tight as you try to outlast the wild and unpredictable movements of the bull. It's a thrilling ride that will test your balance and agility, all while providing endless entertainment for both participants and spectators. Our mechanical bull is designed with safety in mind, ensuring a controlled and enjoyable experience for everyone involved.
But the fun doesn't stop there. We have an array of other carnival games that cater to various interests and skill levels. From classic ring toss and bean bag toss to inflatable obstacle courses and mini golf, there's something for everyone. Our games are designed to encourage friendly competition, teamwork, and active play, ensuring that the kids are fully engaged and having a blast.
At Party Kids America, we understand that organizing a party can be overwhelming, which is why we provide rental services for all our carnival games. We handle the logistics, delivery, setup, and takedown, allowing you to focus on creating precious memories with your child and their friends. Our team is experienced and dedicated to ensuring that every event is a success, providing you with peace of mind and an exceptional party experience.
So, whether you're planning a birthday party, a school event, or a neighborhood gathering, Party Kids America has you covered. Our selection of carnival games, including the Dunk Tank, mechanical bull, and more, will transform any ordinary party into an extraordinary celebration filled with laughter, joy, and lifelong memories. Contact us today to make your next event an unforgettable experience for all the kids in attendance!
What are some popular carnival games that kids enjoy playing?
Kids have a wide range of carnival games to choose from, but here are some popular ones that are always a hit:
Ring Toss: Participants aim to throw rings and land them onto bottles or other targets to win prizes.

Duck Pond: Children select a floating duck from a pond and check the number or symbol on the bottom to determine their prize.

Balloon Darts: Kids throw darts at balloons attached to a board, trying to pop as many as they can to win prizes.

Bean Bag Toss: Participants toss bean bags into designated holes or targets, earning points based on where the bags land.

Fishbowl Toss: Kids toss ping pong balls into small fishbowls, aiming to land them inside to win a prize.

Basketball Shootout: Children try to score baskets by shooting basketballs into hoops of varying heights.

Can Knockdown: Players throw balls or bean bags to knock down stacked cans, with the objective of knocking down all the cans to win a prize.

Skee-Ball: Kids roll balls up a ramp and aim to get them into various holes with different point values.

Milk Bottle Knockdown: Participants throw balls to knock down a pyramid of stacked milk bottles, aiming to knock them all down for a prize.

Whac-A-Mole: Kids use a mallet to hit toy moles that pop up randomly, earning points for each successful hit.
These games offer a mix of skill, luck, and coordination, making them engaging and enjoyable for children of all ages.
Can carnival games be customized or themed to fit a specific party or event?
Yes, carnival games can absolutely be customized or themed to fit a specific party or event. Many carnival game providers offer options for customization to enhance the overall theme or atmosphere of the event. Here are a few ways carnival games can be tailored to match a specific party or event:
Customized Backdrops: The backdrops behind the carnival games can be customized with specific colors, patterns, or themed images to match the event's overall aesthetic.

Themed Props and Decorations: The game booths can be adorned with themed props, banners, and decorations that align with the party's theme. For example, if it's a pirate-themed party, the game booths can be designed to resemble pirate ships or treasure chests.

Branded Signage: Carnival game providers can create custom signage featuring the party's logo, name, or any other branding elements to give the games a personalized touch.

Game Prizes: The prizes offered for winning the carnival games can be customized to align with the event theme. For instance, if it's a superhero-themed party, the prizes can be superhero-themed toys or accessories.

Game Variations: Carnival games can be modified or tailored to fit the theme or purpose of the event. For example, if it's a carnival fundraiser for a school, the games can incorporate educational elements or school-related themes.

Interactive Elements: Interactive elements can be added to the carnival games to match the event's theme. For instance, if it's a Halloween party, the games can include spooky sound effects or special lighting effects to create a more immersive experience.
By working closely with the carnival game provider and discussing your specific requirements, you can ensure that the games align perfectly with your party or event theme, creating a cohesive and memorable experience for all attendees.