MECHANICAL BULL PARTY RENTAL FUN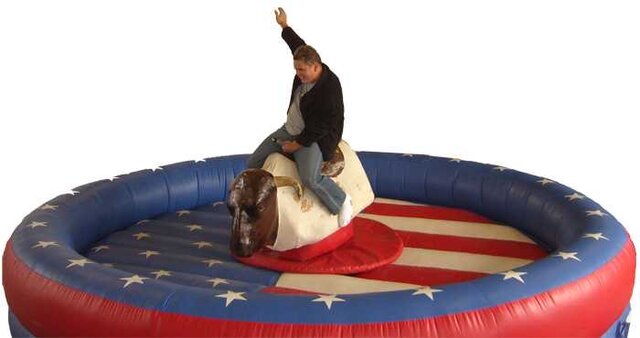 Actual Size: L15ft - W15ft - H9ft
Description
Who is ready to take on The Bull! Our Mechanical Bull Rental has become one of the elite must-have pieces of western entertainment equipment for theme parties, balls, promotional events, and company events. Our bulls are of the latest design and are fully controllable and safe. All ages from 3 years to 70 can enjoy the experience of mechanical bull riding regardless of ability. The Mechanical Bull is totally controlled by the experienced operator and is a safe ride. Take The Bull for a ride and see how long you can last while he tries his hardest to buck you off of his back!

* Actual bull hide color, inflatable color & type may vary and are subject to change without notice.

* $550.00 PER HOUR
Mechanical Bull Rental
Mechanical bull rentals are a popular choice for events and parties. They provide a fun and exciting experience for guests of all ages. If you're looking to add some excitement to your next event, be sure to consider renting a mechanical bull.
When renting a mechanical bull, there are a few things to keep in mind. Our bulls can accommodate both adults and children. However, you'll need to consider the weight limit of the bull. Most bulls have a weight limit of 250 pounds, but some are able to accommodate more, ask one of our members for clarification.
Next, you'll need to decide where you want the bull to be set up. Party Kids America will deliver and set up the bull for you, but if you're having the party at your home, you'll need to make sure there's enough space. The last thing you want is for the bull to be too close to the guests and cause a commotion.
Finally, you'll need to decide how long you want to rent the bull. Whenever you schedule your rental you'll be able to see our hourly/daily rates.